Prestressing steel
WDI and her daughter company NEDRI Spanstaal BV in Venlo Netherlands, is one of the leading prestressing steel producers in Europe.
The company is highly recognised for its competence in the production of prestressing steels.
NEDRI Spanstaal BV has in its 88-year experience in Europe and far beyond build an extraordinary position and reputation in the field of prestressing steel technology. This expertise ensures durability and reliability in infrastructure projects, large industrial projects on-and offshore as well as the prestressed concrete elements industry. Our dedicated staff, along with an agile QA forms the basis of the perfection of our products.
The quality management system of Nedri Spanstaal BV has been awarded with the ISO 9001 certificate for many decades.
We are certified by Lloyds Register Quality Assurance.http://www.prestressingsteel.com/
Prestressing steel strand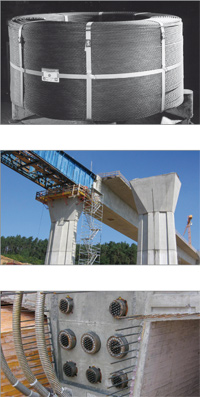 Dimensions
7 -wire strands: ø 6.9 - 18 mm
3 -wire strands: ø 5.2 – 7.5 mm
Type
thermo-mechanical treated (stabilised)
Relaxation
Surface
smooth or indented uncoated, galvanized, PE coated
Indentation
according to FprEN 10138-3
to specific client demands
Coil weight
Coil dimensions
Inner diameter: 740 – 1,200 mm
Outside diameter: 1,190 – 1,660 mm
Height: 500 – 750 mm
Cut to length
1,000 – 6,000 mm and according to client demands